Maple Leaf Duall Wattage Converter Adaptor Kit - ML1393GY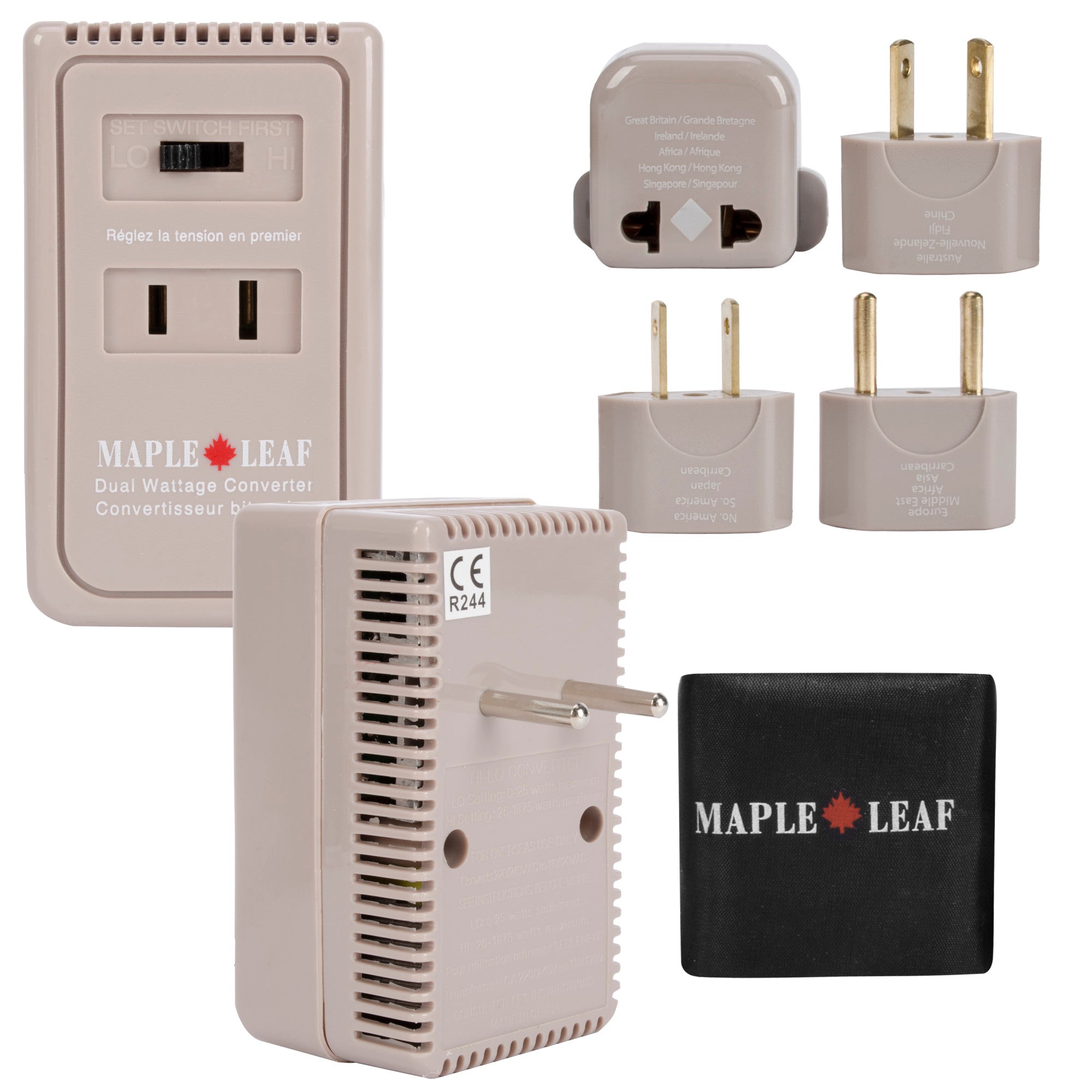 ---
Contact Us
Please contact Brandon Goraieb for all the product information and latest opportunities:
Decoration Methods
Embroidery
It is the craft of decorating fabric or other materials using a needle to apply thread. Embroidery is available with a wide variety of thread colours and can be applied to multiple locations.
PAD & DIGITAL PRINTING
The process of transferring an image onto a 3-D object, a perfect solution for customizing golf balls.
LASER ETCHING
Let your brand shine with your logo laser engraved on the Lopez Stainless Steel Double-Walled Insulated Tumbler.
Additional Information and Services
More information can be viewed in our Additional Information and Service page.
Description
| 1-50 Units | 51-149 Units | 150+ Units | MSRP | |
| --- | --- | --- | --- | --- |
| $30.10 | $25.70 | $22.70 | $39.99 | (C) |
The adventurer's dream come true is here. Equip yourself for a worldwide travel experience with the Maple Leaf Dual Wattage Converter Adaptor Kit. This adaptor kit has been engineered for travel on a global scale; allowing you to plug most appliances into most foreign outlets. It features 4 country-coded adaptor plugs corresponding to top foreign destinations, such as the UK, Europe, Asia, Australia, Africa, the Middle East, and North and South America. Get adjusted in the new, or familiar, cultures with the included worldwide adaptor plug reference chart, replacement fuses (250V, 10A) and travel pouch. Its LO setting is suited for small electric appliances, such as electric shavers and toothbrushes. While the HI setting is used for small heating appliances, such as most travel irons, clothes steamers and portable hairdryers.
Engineered for global travel
Compact power management kit includes dual-voltage converter to transform 220/240V electricity to 110/120V – the standard in the U.S., Canada and Mexico
4 country-coded adaptor plugs corresponding to top foreign destinations: the UK, Europe, Asia, Australia, Africa, the Middle East and North and South America
Worldwide adaptor plug reference chart, replacement fuses (250V, 10A) and travel pouch included
The LO setting is used for small electric appliances, such as electric shavers and toothbrushes, not exceeding 25 watts. The HI setting is used for small heating appliances, such as most travel irons, clothes steamers and portable hairdryers, using between 26-1875 watts